In-apps are messages that appear on top of mobile apps to drive engagement. Now, WonderPush has made them available to websites as well!
Starting today, WonderPush is launching a brand new in-app messaging feature that will let marketing and content teams produce targeted, contextual and customizable messages that work just as well on your website and your mobile applications, without any coding.
Without code or help from your technical team, you can create and remotely trigger the display of banners, modals and alerts targeting users as they browse your site and use your app, letting you engage them in a specific action.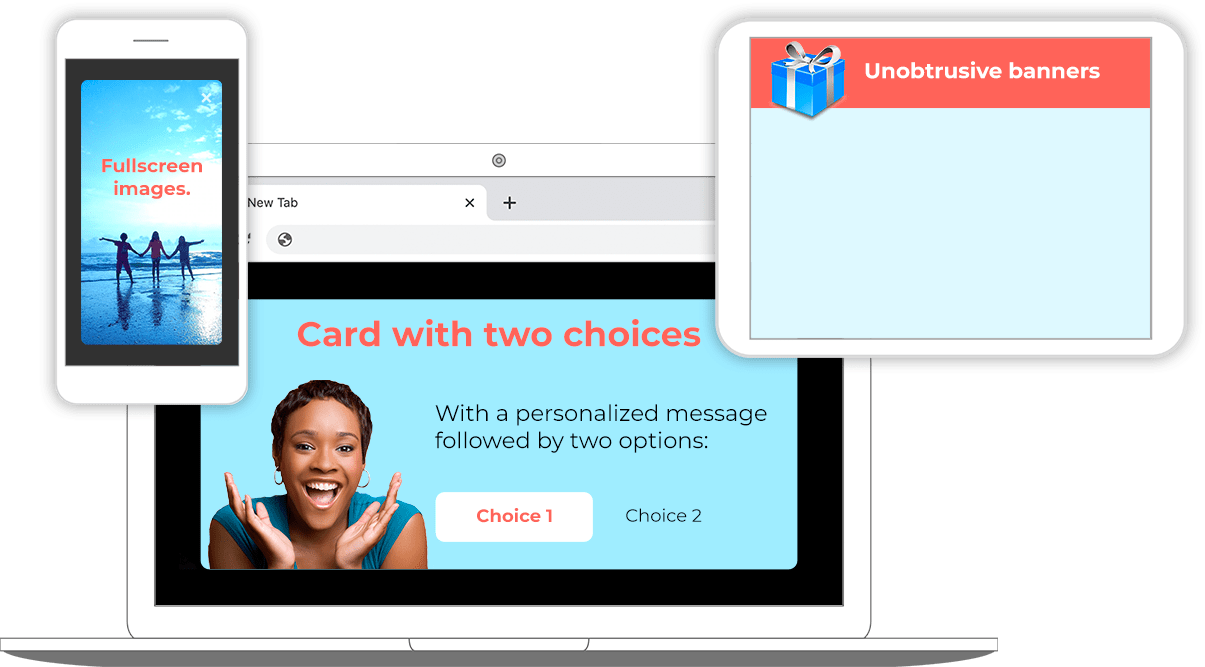 Why should I use in-app messaging?
In-app messaging gives you access to the entire audience of your websites and apps, without requiring any type of subscription from the user. In other words, any visitor of your website can see in-apps while they are browsing your site or using your app.
In-app messaging is key to a strong customer engagement strategy, helps you encourage deeper usage, and fully complements your re-engagement strategy via push notifications.
How can I boost user engagement with in-apps?
Here are some examples of in-apps you could set up in a minute:
Example #1: Onboard new users
A user is visiting your website or app for the first time. After a few pages, make sure they are not missing out on your flagship feature and give them a good reason to stay.
Example #2: Increase push subscription rate by prompting users to subscribe to push at the right moment in the customer lifecycle.
Has the user read several articles about soccer? Display an in-app that promotes subscribing to new soccer-related content and increase your push notification subscription rate.
Example #3: Reduce bounce rate
A user has just landed on a product page on your site after a Google search but that product is no longer in stock. Before they leave, show them an in-app advertising your flagship product to increase the chances of a purchase.
Example #4: Upsell your customers
Use an in-app to display power-ups available for purchase at the end of a particular level of your game.
Example #5: Ask happy users to rate your app
Use in-app targeting to display your rating prompts at the right moment to satisfied users only.
What formats are available?
The WonderPush online editor allows you to compose beautiful banners, dialogs and modals, in your own colors, without any coding. A live preview lets you see how they'll render on different devices. You can also develop your own custom formats (with the help of your technical team).
How do I measure the effectiveness of in-apps?
Your dashboard features real-time reports of views and clicks, computes conversion rate for you, globally or per in-app, giving you all the tools necessary to monitor and enhance the effectiveness of your in-apps.
What do I need to do to get started?
If you've already set up WonderPush push notifications, there is no additional work necessary: in-apps are ready to be displayed on your website or mobile app. Create your first in-app from our online dashboard, or read our guides on how to create beautiful and efficient in-apps.
How much does it cost?
Any application or website using WonderPush can already set up and activate one in-app of their choice for FREE regardless of the number of unique visitors or installations.
For unlimited simultaneous in-apps, the pricing is degressive starting € 0.3 / 1,000 Monthly Unique Visitors.
Why isn't this offered by most push providers?
Other push providers who have developed in-apps for mobile apps require a lot of interaction with their servers. This approach doesn't allow them to offer in-app messaging for websites with large audiences at a reasonable price, let alone handle the load on their servers!
At WonderPush, we've redesigned our entire infrastructure to ensure that your website and app will not interact with our servers too often. Our patent-pending technology lets you target users efficiently directly on the client-side, requiring little to no interaction with our servers and allowing in-app messaging to work offline. And allowing WonderPush to offer in-app messaging at an unbeatable price.